OK yeah I will admit I have had a lot of free time on my hands lately....Clearly this post shows just how much I really have, that or I think about the shows I used to watch in the 90s when I was just wee....Anyways, am I alone here or does anyone else not agree with the amazing style from cartoon characters back when.
For example:
Bree from "The Weekenders" (Left). Note the moto jacket, high waisted red skirt or colour blocked dress I'm not really sure...Bleached hair choker etc....It's as if she bought her whole outift at opening ceremony, no? Don't pretend you don't like what shes wearing either.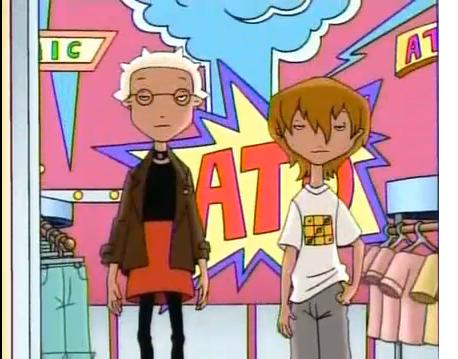 Judy, Doug's older sister from the self titles show "Doug". Look at her, head shaved at the sides to maximize the look of the bangs. What appears to be a knitted bubble dress, complete with black stockings and a tight black undershirt. Minus the beret shes practically the quintessential 90s artsy alterna-girl.
Clearly I'm going to save the best for last, Daria&Jane...Obviously from "Daria" the epitome of 90s alterna-girl cartoon style....Need I say more?
......Why can't cartoons now be like this?