ya super late i know............
Ok so ya vivienne westwood is always one of my favorite collections if not my favortie every season, vivienne cannnot and will not ever do anywrong in my eyes, first off my favorite piece in the collection omg i want it now , it looks kinda like a sgt pepper military jacket in drapey cardigan form, and that black suite with the white and black shirt, i pray every night baby jesus will bless me with a vivienne westwood suite and leave it lying folded neatly and perfectly underneath my pillow for when i wake up in the morning....anyways i think vivienne westwood has the perfect suites , espeically the blazers they are fitted perfectly and arnt too tight and not to baggy which is hard for me to find. back to the cardigans the cardigans this season as basically every season are so perfect!!!! and the pants its still like drop crotchy-ish without like over doing it, and the ties at the weist are my favorite thing about them, there like sailor pants.
so some of the pieces in this collection could be a bit much for some people but paired with other pieces it could look less flashy and out there i guess...say the printed white cardigan if you were to wear that with a black button up, black pants, or white pants and brown oxfords., alot of the pieces were actually quite demure like the blazers, suits, shoes ect... but anyways the prints on some of the pieces in this collection are killing me i love them, espeically on the cardigans, i am dying for the cardigans this season! i'm also crazy about the jackets/blazers.... the fur/leather is so amazing one of my favorite pieces, and the khaki safarie looking jacket was so goooood, paired with the hat it reminds me of indiana jones for obvious reason...the shoes espeically the orange loafers were really posh looking. im loving the accessories the hats and socks, the hats are crazzyyy. the inspiration for this collection was obviously homeless, but the individuals pieces paired down dont look homeless at all it was mostly just the layering and styling and how the collection was presented made them appeare that way, but in like a good super stylish homeless person that wears vivienne westwood kind of way......one of vivinees best collections, loved it!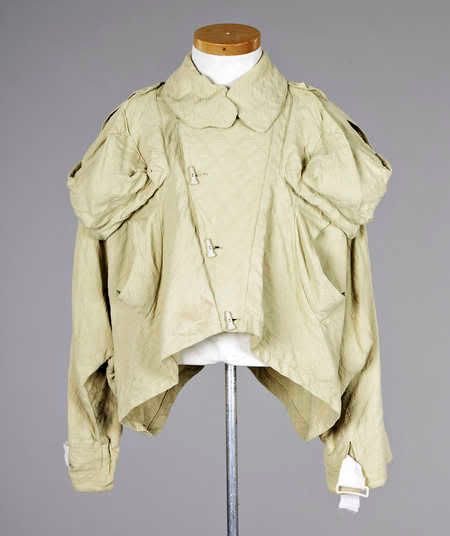 Also i noticed her kind of refrencing back to some of her older collections, which made me happy seeing as how she re did that one jacket thing i'm obsessed with.
photos nymag.com/ fashion spot forums